Hello Lovelies. I decided that writing a Ritual Guide for this coming Lunar Eclipse in Sagittarius tomorrow. There are many other ways I have been able to use my time to support this movement, including supplying free herbal support and tarot readings for Black comrades and sharing resources. 
Additionally, and more importantly, this is not the time for me to add my white voice to the cacophony. Instead, I'd like to highlight some words written by Black witches and some events that you can join to raise donations as well as adding magical support to the front lines. 
A Witch's place is in the revolution.
  From The Hood Witch:
"The Strawberry Lunar Eclipse occurs on June 5th in fiery Sagittarius. This is the first eclipse on the Gemini and Sagittarius Nodal Axis, which means it's setting the tone for the energy of the next year and a half. This eclipse is the closing energy of the story that was created in June 2019. We are now letting go of the outdated vision that we started in 2019 and moving towards a deeper level of commitment in our ideology.  A Lunar Eclipse falls on a Full Moon that is on the Lunar Nodes (AKA Nodal Axis of the Moon). During such luminaries, emotions are heightened, as we gain a deep understanding and clarity on matters. Being that this eclipse is in honorable and just Sagittarius, we can expect truths and injustices to be exposed on a global level. "
Read the rest here.
From Janelle Belgrave at So Above:
"COVID is going to explode all over the NYPD because they cannot accept peaceful protest.
The upside is that this is an eclipse in Gemini and it's ruled by Mercury in Cancer now in his retrograde shadow. There's a good chance that their going to have to walk back this decision.
The decision even seems emotionally driven as opposed to logic. You can't say you need to detain protestors for over 24 Hours because of the COVID crisis while doing so guarantees the spread of the virus and creates a larger crisis.
Wildly enough Mars, the planet that rules over the police/military is in Pisces conjunct Neptune, which according to H.S. Green relates to: "Trouble through democratic movements & popular causes, they are defeated or cause contention...""
Read the rest of the thread here.  
Check her out at http://www.soabove.com/ and follow her twitter. 
From Danielle Ayoka aka Mystic Lipstick: 
"Sagittarius full moon is a time to release anything blocking you from your freedom to expand. Sagittarius brings themes of enlightenment, recognition and becoming more mobile in areas where you have felt stifled, stagnant & complacent. This is a good period to break down barriersIt's time to shift mindsets and paradigms that have become limited and mindsets that are no longer serving you and your highest good. Expanding your territory in every way so that you can continue growth is available now. "
Read the whole thread here.
Check out her site  and contribute to her Patreon. I did!
From Sam Reynolds at Unlock Astrology, who posts affirmations about the current transits for each sign:
"Gemini (Mutable, Air sign) Affirmation:
I recognize that focus can be just as much "a letting go" as "a going in."
Virgo (Mutable, Earth sign) Affirmation:
I am widening the capacity of my heart to hold more as to accomplish more.
Read more here. From Ashely D. Jay at Zora Mag:
"At 2:12 p.m. CDT on Friday, we have a Sagittarius full moon that serves as our first (lunar) eclipse on the Gemini-Sagittarius axis. This is a harsh full moon where people could be lost in their rage, sadness, martyrdom, and depression. We will be feeling irritation all around. However, this isn't a reason to not express your emotions. Have the guts to face reality. Channel your anger into something that helps you feel like you've fully expressed your rage and isn't harmful to you or others. This energy also wants to help us release the tension within our nation and transform how we relate to the world. We could have even more violence in the U.S. on this day. The Gemini and Sagittarius eclipses this year are the real cultural reset. There comes a time when you have to stop complaining about getting played if you keep volunteering for the game. Instead of being mad at the liar, figure out why the lie(s) worked."
Read more about this week's transits here and follow her on Twitter @ashleighdjay. From Dayna Lynn Nuckolls aka The People's Oracle: 
Watch her video NO PEACE, BUT A SWORD!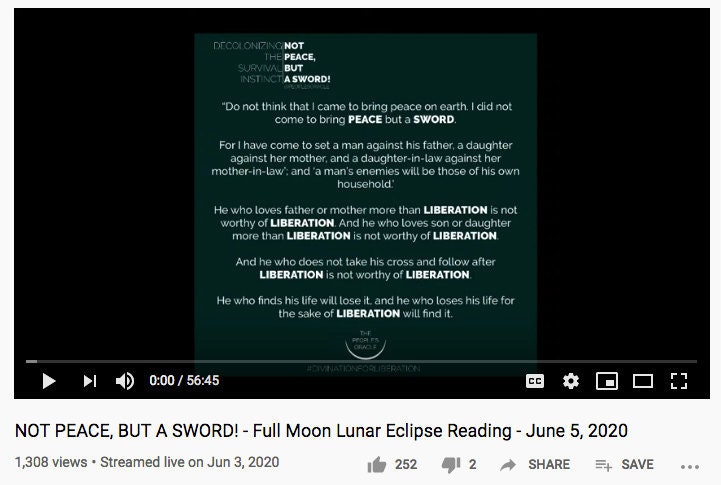 Follow her on Twitter.
Here are a list of other Black astrologers, readers, and witches to follow and purchase services from:
@kandis.with.a.k (Instagram)
@SagittarianMind (Twitter)
@sfreynolds (Twitter and Instagram)
@tatianatarot (Twitter)
@TheMeccanism (Twitter) Please join me at these two events tomorrow!
Edgar Fabian Frias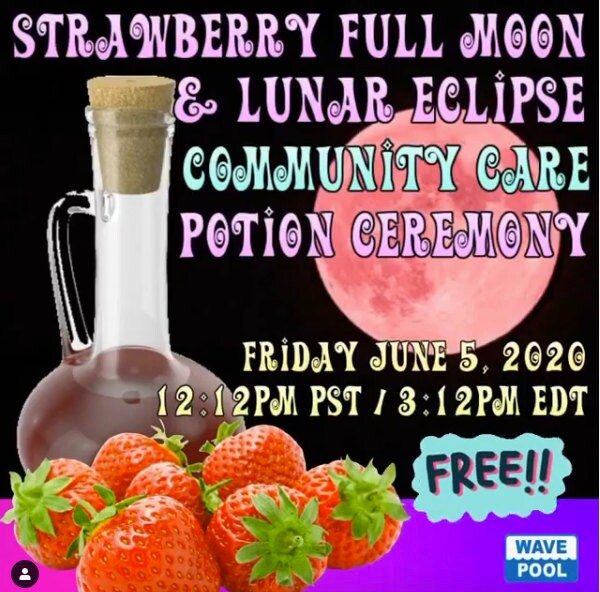 Join me tomorrow at this lovely event! Sign up here. Follow Edgar for such lovely queer magic! Amanda Yates-Garcia and Kandis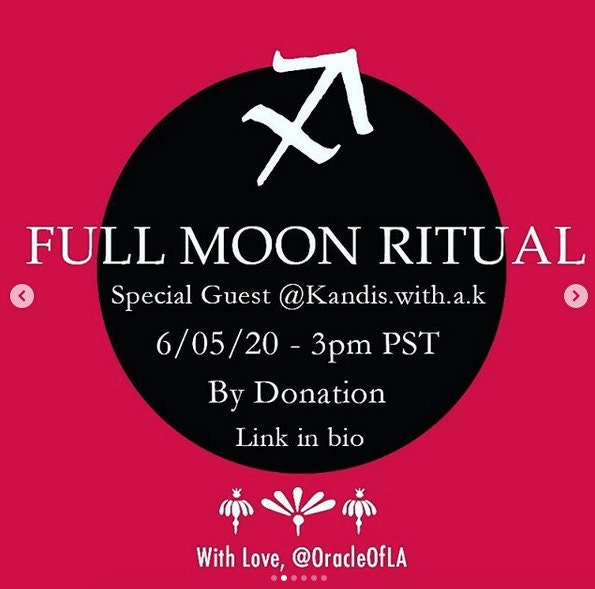 Join me at this lovely event as well! Raising money for bail funds across the country! Register here. Follow Amanda and Kandis for witchy goodness! 
That's all I have energy for today. I'd like to share my Brave Heart Tea later this week, when I've gotten the hang of taking my own advice for activist self-care.Stay Safe and Stay Fighting, loves. And for god's sake, take care of yourselves and accept care from others; we cannot pour from and empty cup and we must be full if we're going to see this through. 
In love and magic, 
~Corinne